WordPress Themes: Getting the Right Design and Layout for Your Blog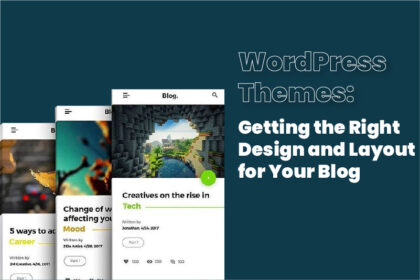 The first thing your WordPress blog front end needs is a face (design and layout). You want to create an environment that is both eye-catching and practical. In the long run, you want your visitors to easily find information on your blog. You don't want visitors to be discouraged by the colors you choose or the non-intuitive and unpractical way in which information is displayed. Your design can cause instant distrust of your blog or instant acceptance.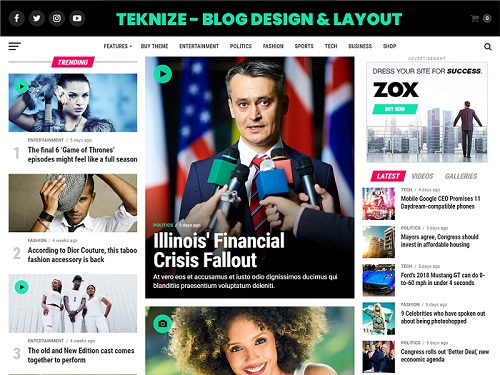 Start your search for a theme as soon as your WordPress platform is installed. The look and feel of your blog relies on the theme you choose. Your readers will first notice the overall appearance of the blog, before even taking a look at the content. Choose a theme that looks great, but also works for your unique content needs. The default theme that comes with your WordPress blog installed is Twenty Sixteen — while it's a good starter theme, you'll want to choose a theme that is more unique to your blog and compatible with your niche.
Here's a quick checklist for choosing your theme by searching within blog dashboard:
Read the description: Most themes come with a short description of features and functionality. By reading it, you should have a rough idea if the theme matches your needs and how customizable it is.
Check the ratings: Popular themes will have star ratings that are visible in the preview and under
theme details. They should give you a clear idea how good the theme is.
Preview the theme: Preview the theme to get an idea of the overall look and layout.
Check for responsiveness: Aim for a responsive design that will work on desktop browsers and mobile devices. This is recommended by Google.
If you find a theme that takes your breath away, cool down. Once you install a theme you like, don't be surprised if it doesn't look quite right. Your theme is just a skeleton of your blog.To make it appealing, you'll have to fill in content (text, photos, videos, etc.). Earlier, we showed you how to add content to your blog.
Free, premium, and custom themes
For many visionary novice bloggers, the world is not enough. The stash of free themes (more than two thousand themes are available on wordpress.org) does not satisfy their particular desire for look and feel. There are two other options you can take a look at, premium and custom themes. But they incur a cost, sometimes a tiny one, at other times a huge amount.
For the most part, it's hard to choose the right theme from such a wide variety. At Teknize, we're doing our best to make that process easier for you.
Premium themes are created by both single developers and dedicated showcase websites. Top sources for premium themes that are worth checking include ThemeForest, StudioPress, Elegant Themes, ThemeIsle, ThemeGrill and Colorlib. The price range for a single-use licenses ranges from $30 to $500, depending on which premium theme you choose.
Custom themes are created by an individual developer (coder and designer, or agency) who will either customize an existing theme or create a brand new theme for you. While coming with clear-cut advantages, they are not the ideal choice for beginner bloggers due to their high cost. Prices to customize a theme range from $500 to $2,000, depending on the features you want.
Examples of good free and premium themes
Based on our experience, we recommend the following free and premium themes for new bloggers.
Free themes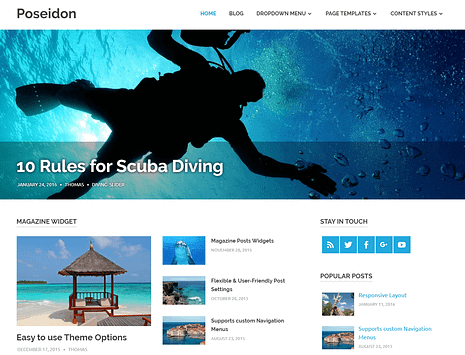 Poseidon is a theme that's near-perfect for showcasing your content, especially if you also use crisp and captivating visuals. It offers a full screen image carousel,  offset by plenty of negative space.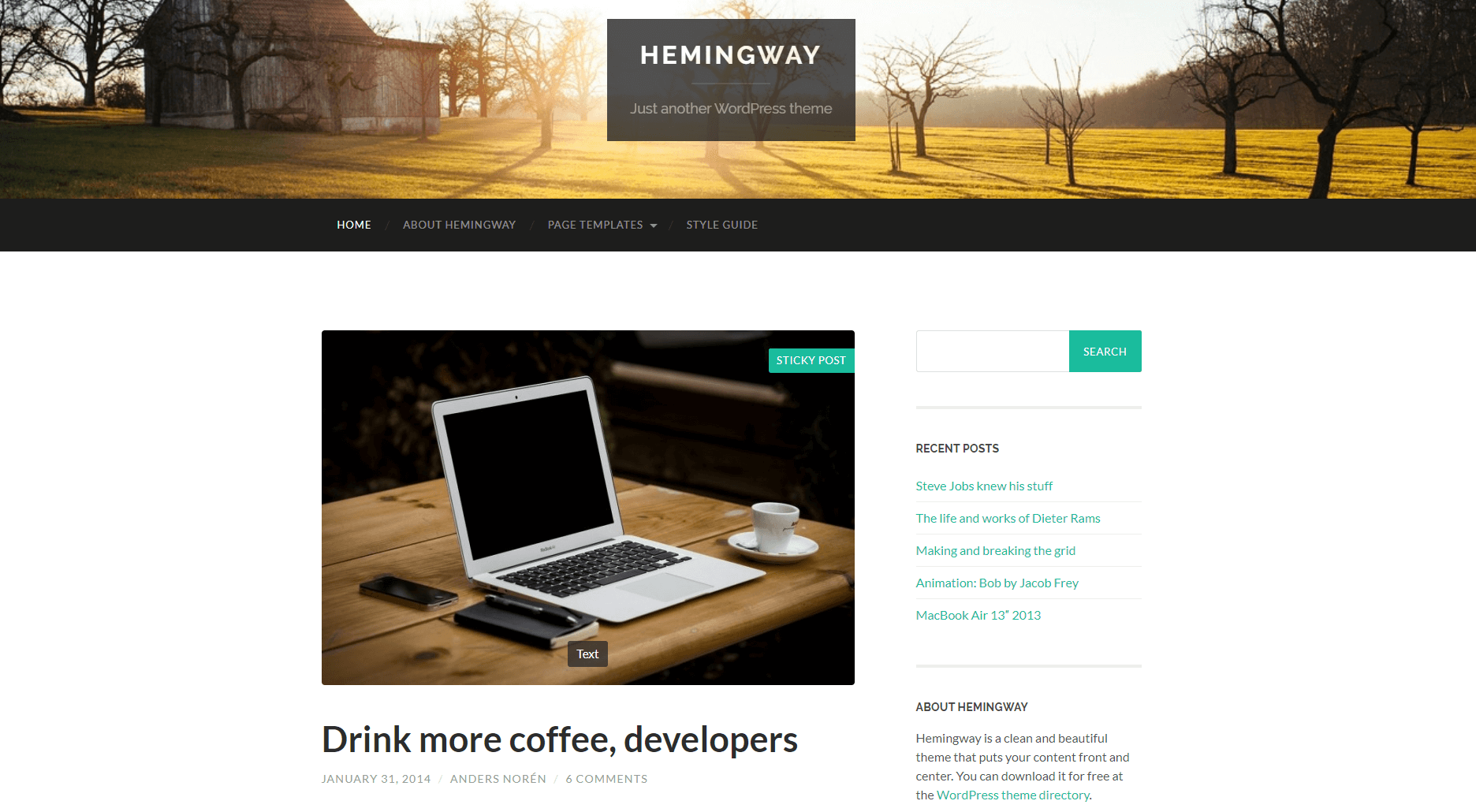 Hemingway features a two-column design that's well-suited for blog sites. It is clean, with a simple layout that draws attention to your content over everything else. This theme is perfect for many types of blogging sites, simply because it's clean enough for simple blogs, but also extensible for more complex sites.
When it comes to personal blogs – and a bunch of great content about food, travel, fashion, or other lifestyle topics – Writee is worth your consideration. The charm of this theme is that its design belies its ease of use. In other words, Writee looks great, and lets you get cracking on creating content – ideal for new site owners.
Premium themes
You can find different premium themes online from the resources mentioned earlier. We recommend you to check the themes series from Themeforest. Their services and support are top notch and all of their themes are highly customizable. Here are three themes that are suited for the blog.
Newspaper is a WordPress theme that lets you write articles and blog posts with ease. We offer great support and friendly help!
Create a great news website with our newspaper WordPress template. This bestseller theme is perfect for blogging and excellent for an e-commerce, shop, store, WooCommerce, news, newspaper, magazine, publishing or review site. It supports videos from YouTube. AMP and mobile ready. GDPR compliant, the theme is fast, simple, and easy to use for cryptocurrency, fashion, food, lifestyle, modern, personal, travel, luxury, viral, minimal, minimalist projects, web development, and more websites.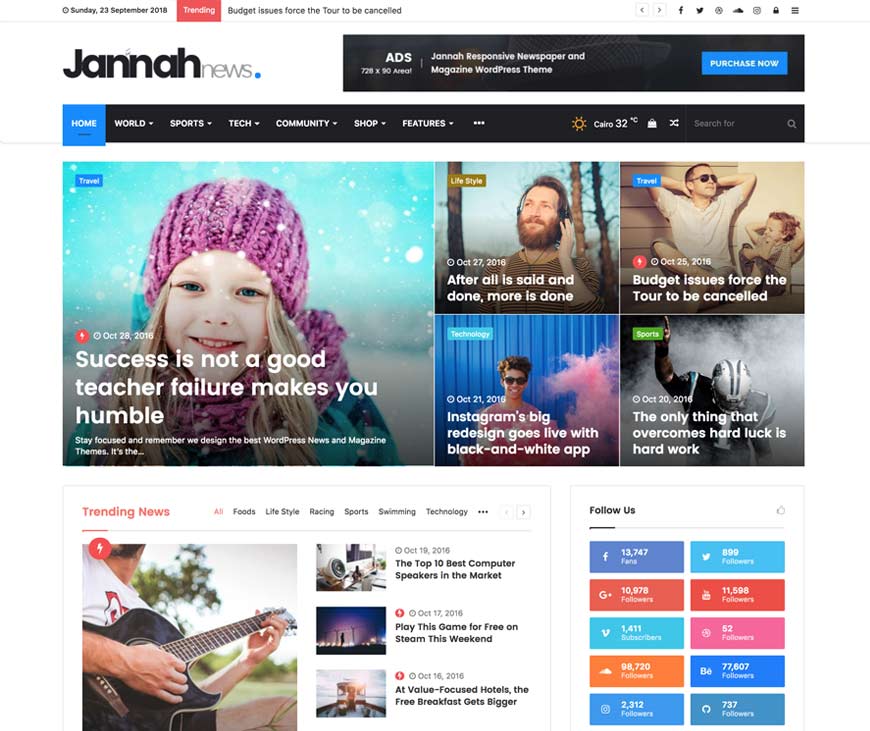 Jannah has Content Marketing covered with fresh responsive designs, amazing new features, complete 1-click website demos & lifetime free updates.
Jannah has a fully responsive design that not only adapts to all of today's modern devices but responds to the most up to date mobile devices for swipeable content. It also appears to think for you with intelligent menu features that adapt to the user's device to ensure they have the best, most seamless experience possible while consuming your content.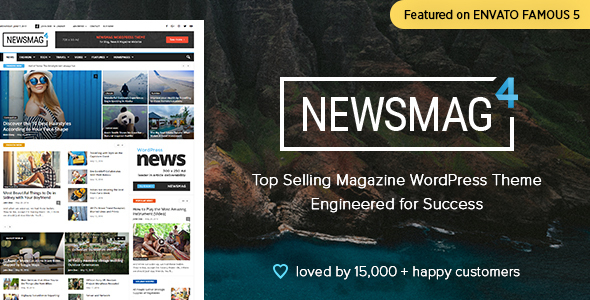 Newsmag is a modern WordPress theme that lets you write articles and blog posts with ease. We offer great support and friendly help! The Newsmag template is excellent for a news, newspaper, magazine, publishing or review site. It also supports videos from YouTube and features a rating system. It uses the best clean SEO practices, and on top of that, it's fast, simple, and easy to use. In addition, News mag supports responsive Google Ads and AdSense.
If you still find it hard to set up your blog and want Teknize to setup your blog, please Contac Us.